Inforill is a unique and qualified IT outsourcing partner who can address specific needs of Swiss and European SME's. It understands the expectations in terms of Trust, Reputation, Work-culture, Responsiveness, Communication, Quality, Domain Know-how and Technology. Inforill has a clear solution to address each of these criteria with a professional and time-tested approach, methodology and processes.
Inforill targets western companies requiring: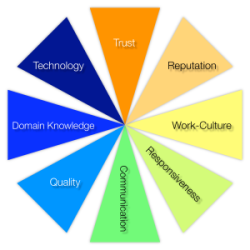 Quality and timely execution of complex software projects
Extension of their current software team to execute software development projects
Highly responsible professionals with technology and domain know-how
Teams with direct and real-time communication in the client's language
Teams sensitive to demanding quality and punctuality needs of clients
Inforill understands Western business culture. At the same time the company has a deep understanding of the Indian business environment and work culture to offer the ideal mix of both worlds.
Key Success Factors
Business-minded Technology savvy Management Team
Light-weight pragmatic process-oriented delivery
Extensive local business network to get things done
State of the art development platform